First, last week I announced my giveaway winner BUT the winner happened to be hosting the same giveaway SOOOO now the winner is:
Also, I'm on Vine now and would love to have more people to follow! I'm MrsEmilyPowell. Find me!
Now, onto toddler clothing!
Join and link up
HERE
Today's post is all about Georgia's Crazy 8 mint shorts. I don't shop at Crazy 8 a lot but oh my gosh...when they have good stuff it's easy to snag because it's VERY inexpensive! Get these
HERE
for $6.99! She's worn hers almost everyday since I got them in the mail for playing outside and running a few errands. I'm not a huge fan of shorts but shorts with ruffles and a bow?! Yes, please!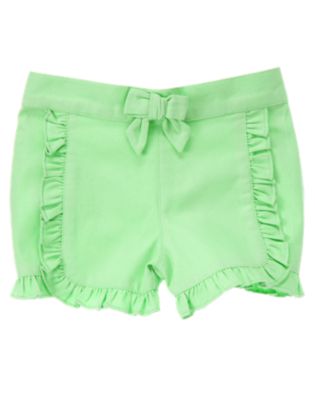 She wore this outfit to the ballpark to watch my nephew play. The top is Matilda Jane, the bows are from
HERE
, and the sandals are Sun Sans from Ebay.
Then, G wanted to dig in the dirt. So we put the mint shorts on again (just pulled them off the hanger from drying!) but this time with our play shoes from Children's Place (I am BIG on not buying cheap shoes but these were too cute to pass up and only $6) and a white lace tank from Target and dug right in!
And lastly, what's best for picking blueberries and getting your child messier than you've ever seen them before...yeah, you guessed it. $7 mint shorts.
So, when it comes to playing and getting dirty...our $7 shorts are serving us well!